Fanmade Friday is a weekly event from TheHob. Each week I will post something that has been handmade from a fandom of my choice.
This week I have chosen to do Quilts, for two reasons. One, I have always loved quilts ever since I was a girl. Not really sure what it is about them that I love so much, but I just love love love them. And two, this weekend in my town we're holding our annual event called Heritage Days, and they always have a quilt show where you can vote for your favorite quilt and maybe even win one. And so here is my Fanmade Friday of the week:
Pumpkin Patch HALLOWEEN Wall Hanging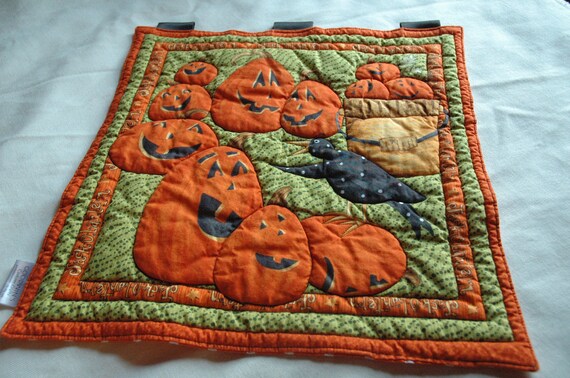 Description:
This is 100% cotton on the front and back, with high loft polyester batting inside for a very textured, puffy look on this fantasically charming wall hanging. This is machine quilted with black cotton thread to enhance the picture and has 3 black satin ribbon loops sewn to the back.

It measures 18" x 18" and will come with a wooden dowel and ribbon.
If you would like more information on this wall hanging quilt, please go
here
. If you would like to see more quilts by the maker go to
GoodwinsCustomCrafts on Etsy
.