The matches are up!!! And I've already voted. Now I'm going to attempt to convince you to vote as well! :)
This tournament is NOT spoiler-free so proceed at your own risk! I ,for one, do not mind (in normal circumstances I
hate
spoilers, but this is a competition and I like to know who I'm voting for before I vote), but if you do mind the spoilers I wouldn't continue. I will be putting a few things from the match posts on this blog to give you a little bit of an idea about the heroines and if you would like to know more about them, I will leave the link to the match where you can get more information. I will try to keep all of it spoiler free on my blog so that you can get enough information on them without the added spoilers, but I make no promises!!
Also,
the matches will only be up for 24 hours
, in which they will close at 12:01am EST on December 2nd so don't waste time!!
Match #1 heroines: Clary vs. Kate
Clary

Fray/Morgenstern is the heroine from Cassandra Clare's Mortal Instruments Series, which includes City of Bones, City of Ashes, City of Glass, City of Fallen Angels, and coming City of Lost Souls, and City of Heavenly Fire. [She is/has] 1. Fiercely loyal & driven to help those she loves, 2.

Feisty

& independent - she doesn't put up with anyone's um ... you know, 3. Funny

& great to have around, 4.

Figures

it out when everyone else gives up, 5.

Forever

drawn to the gorgeous Jace, 6.

Fierce

&

Fights

for what she love, 7. [a] Firm

hold on herself, and 8.

Flair

for making new or stronger runes. (for examples of each of these qualities, click here)
~~~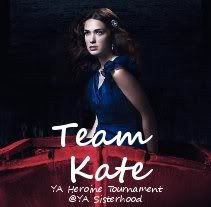 (the following was written by Carli @ Emberchyld's Journal)
Since this is a post to advocate for Kate as a heroine... I thought I'd abdicate my advocate duties to the person who knows her best and let him tell you why you should vote for Kate! (apologies to Amy, from whom I very LIBERALLY borrowed).
Click here
for the letter from Vincent on why you should vote for Kate.
To vote for either Clary or Kate click here.
And may the best heroine win!
___________________________________________
Match #2 heroines Juliette vs. Cammie
(the following was written by Brenna from Esther's Ever After)
In Shatter Me, the world has been nearly completely destroyed, and we meet this girl. Juliette is a 17 year old teenage girl living in a world ruled by the iron fist of The Reestablishment, who govern out of fear and intolerance.
A heroine is someone who stands up for what's right, and is willing to risk everything she has to meet that. Not only that, but she inspires others to do the same. Even as a child she was doing this, as she was caring and constantly putting the needs of others above her own. And there's someone who remembers this about her from years earlier...

Her resilience and refusal to give up eventually provide her with the motivation to accept herself and her ability. And while she first comes across as broken, the sheer inner strength radiating from her is like a blinding light in this dark and bitter world. She refuses to allow others to manipulate her, and even practices extreme self-control and restraint to save the lives of others, even if their death and suffering would benefit her.

Yet at the same time, her strength hasn't hardened her. She is as delicate and vulnerable as can be, and while she bends she doesn't break.

Shatter Me is all about Juliette's growing confidence in who she really is and what she can do. Because she won't let others define her, and she won't let anyone else control her. This is HER life, and she is going to OWN it.
~~~
Cameron Morgan doesn't live the life of the average fifteen (seventeen as of the latest book) year-old, not even when the Gallagher Girls series begins. For one thing, she goes to a boarding school. For another, it's an all-girls school. And if that wasn't enough? It's a school to train spies.
She makes her looks work for her as a spy in training, but not as the cliched femme fatale. Those average looks let Cammie blend in with the crowd to gain information, lose tails, and get closer in tricky situations. She refers to herself both as "The Chameleon" and a "Pavement Artist." It's her gift as a spy, but not her only one.
Though her life isn't average, in so many ways, Cammie is an average girl. She gets crushes on boys, she studies for classes, she breaks some school and family rules, she makes mistakes. And that's what makes her a heroine. She's one of us. Given the right circumstances, a girl could be like Cammie in some ways. She kicks butt. She doesn't let things stand in her way. She wants to save her friends and her family, and she sometimes does exactly that. We can all do things like that in small ways, which is what she inspires.
To vote for either Juliette or Cammie, click here. And may the best heroine win!
If you do vote in either of these matches, please leave your favorite heroine in my comments! I'd love to see who you voted for! :)