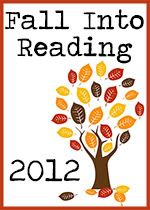 That's right! It's that time again. Where we pick up those books we've been wanting to read but haven't, the books we've been anticipating, and the books we really need to finish. Fall Into Reading is hosted by Katrina at
Callapidder Days
.
Want to join?
Here's how to participate:
Create a list of books you'd like to read or finish this fall. This is the only real requirement for participating in the challenge.
Feel free to set some additional reading goals (such as reading to your kids two hours per week, getting through your pile of magazines, etc.). However, this is not required; setting additional goals is completely optional.
Write a blog post that includes the list of books you want to read (and any additional goals you've set), and get ready to post it on your blog on September 22nd.
Visit Callapidder Days on September 22nd to sign up for the challenge. I'll have an official launch post up that morning, complete with an area for you to submit a link to your personal Fall Into Reading post, where it will be added to the master list of participants.
Read! Work on your goals throughout Fall 2012.
Report your results. Write another blog post in December to let everyone know how you did. (I'll post an official wrap-up to the challenge on December 22nd, where you'll be able to share your results.)
Have fun! Visit other participants to see what they're reading. Write reviews if you're so inclined. But most of all, enjoy your fall reading!
Want more Info?
Click here.
Want to know what I'll be reading?
Click the title to read more about each book at goodreads.
To Read
1.
The Lost Prince
by Julie Kagawa
2.
Finale
by Becca Fitzpatrick
3.
The Evolution of Mara Dyer
by Michelle Hodkin
4.
The Hobbit
by J.R.R. Tolkien
5.
Reached
by Ally Condie
6.
The Perks of Being A Wallflower
by Stephen Chbosky
7.
The Lying Game
by Sara Shepard
8.
The Death Cure
by James Dashner
9.
Solid
by Shelley Workinger
10.
Destined
by Jessie Harrell
To Finish
1.
Anna Karenina
by Leo Tolstoy
2.
The Gunslinger
by Stephen King
3.
Eon
by Alison Goodman
I will be posting reviews for each book that I finish. Hopefully it will be all of them!
Do you have a Fall Into Reading book list?
Leave a comment and let me know what you'll be reading!