Feature and Follow Friday is a weekly meme hosted by Parajunkee and Alison Can Read.
Today's Question: What are some of your favorite magazines?
Well, I wish I could answer this question, but I really don't read any magazines. Like at all. I used to read them when I was a teenager--Seventeen and CosmoGirl--but I haven't picked up a magazine in a while. It's only when I'm in a waiting room or something with nothing else to read that I'll pick up a magazine and flip through the pages.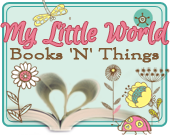 Defiantly Deviant
I prefer