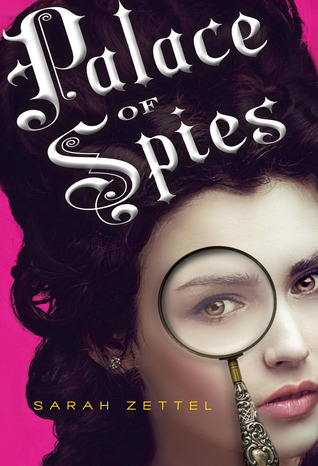 Palace of Spies
Author: Sarah Zettel
Series: Palace of Spies, #1
Expected publication: November 5, 2013
Goodreads
A warning to all young ladies of delicate breeding who wish to embark upon lives of adventure: Don't.

Sixteen-year-old Peggy is a well-bred orphan who is coerced into posing as a lady in waiting at the palace of King George I. Life is grand, until Peggy starts to suspect that the girl she's impersonating might have been murdered. Unless Peggy can discover the truth, she might be doomed to the same terrible fate. But in a court of shadows and intrigue, anyone could be a spy—perhaps even the handsome young artist with whom Peggy is falling in love...

History and mystery spark in this effervescent series debut.
*a copy was provided through NetGalley for review purposes*
These days I've been picking up more and more historical fiction. For some reason it has drawn me in and Palace of Spies is just another great book to add to that list.
Margaret 'Peggy' Fitzroy has been living with her uncle and his family ever since her mother died, but in a twist of fate she finds herself at the court of King George I as a maid of honor. The catch? She has taken on the name of Lady Francesca, pretending to be her in every way and if anyone ever finds out that she's a spy, Peggy will be sentenced to death. No big deal, right? However, the longer Peggy spends impersonating Fran, the more she is led to believe that the real Francesca's death was no accident, and if she doesn't figure out what happened to her, she could very well be next.
Sarah Zettel is an amazing storyteller. Her writing is so eloquent, the words flowing easily across the pages making for a quick yet intriguing read. I thoroughly enjoyed reading about Peggy and her adventures at court. Peggy's voice is easy to love and every moment she was being her witty, clever self I found myself liking her more and more. She's incredibly smart, and rarely ever misses a beat when talking among the royals. The mysteries surrounding Francesca kept me turning the pages and Peggy's determination to discover just what happened to the girl who was clearly much more than the outward exterior she portrayed for those of her who new her best at court was fascinating. They each had stories to tell of this perfect, kind little angel and Peggy's frustration grew as she began realizing that Fran wasn't quite what she seemed which pulls you in even more. Peggy has gone into this assignment with little knowledge of what actually happened between Francesca and the other people at court and has a rather difficult time figuring out just what she was up to. With each answer she receives, more questions come. Peggy really has no one she can trust, not even those who placed her into the position she now holds. In spite of that, she finds a friend in the artists apprentice Matthew Reade who I just adored. He was just so sweet and so caring.
While the mystery surrounding Francesca's death is brought to light, there are still more adventures to be had for Peggy Fitzgerald with the continuation of this series and I can't wait to read more.
I rate this book:
Author
Sarah Zettel is the critically acclaimed author of more than twenty novels, spanning the full range of genre fiction. Her debut novel, Reclamation, won the Locus Award for Best First Novel. Her second release, Fool's War, was a 1997 New York Times Notable Book, and the American Library Association named Playing God one of the Best Books for Young Adults of 1999. Her novel Bitter Angels won the Philip K. Dick Award for best science fiction paperback in 2009. Her latest novel, Dust Girl, was named as one of the best young adult books of the year by both Kirkus Reviews and the American Library Association. Zettel lives in Michigan with her husband, her rapidly growing son, and her cat, Buffy the Vermin Slayer.
Quotes
The following quotes are quoted from an advanced reader copy. They may or may not appear in the fully edited version.
"He raised his eyes to mine. They were a deep, steel gray, and stunningly clear. I had no doubt he could see right through a lady with those eyes, and if I stood here any longer, he would see through me."
"But no mortal can move as swiftly as gossip."
"God in Heaven. How many reasons to be killed could one girl be cursed with?"
"It was truly astounding to see how many variations on the theme of 'smug' one young woman could settle on her features."
"His smile was entirely in his eyes, but I felt it distinctly. In answer, my heart performed an odd and not unpleasant little flip directly beneath my rib cage."
"If a man will cheat at one thing in life, he will cheat at many."