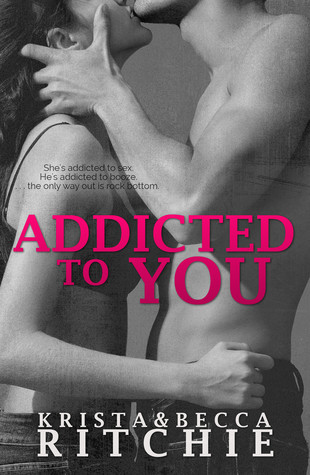 Addicted to You
Authors: Krista & Becca Ritchie
Series: Addicted, #1
She's addicted to sex. He's addicted to booze…the only way out is rock bottom.

No one would suspect shy Lily Calloway's biggest secret. While everyone is dancing at college bars, Lily stays in the bathroom. To get laid. Her compulsion leads her to one-night stands, steamy hookups and events she shamefully regrets. The only person who knows her secret happens to have one of his own.

Loren Hale's best friend is his bottle of bourbon. Lily comes at a close second. For three years, they've pretended to be in a real relationship, hiding their addictions from their families. They've mastered the art of concealing flasks and random guys that filter in and out of their apartment.

But as they sink beneath the weight of their addictions, they cling harder to their destructive relationship and wonder if a life together, for real, is better than a lie. Strangers and family begin to infiltrate their guarded lives, and with new challenges, they realize they may not just be addicted to alcohol and sex.

Their real vice may be each other.

New Adult Romance recommended for readers 18+ for mature content
*a copy was provided by Krista and Becca Ritchie for an honest review*
NOTE: Because of mature content, this book and review is recommended for those 18 and older. There may also be small spoilers within this review so please be cautious while reading it!!
I had no idea what I was getting into when I started reading Addicted to You. I knew that from the premise it sounded really good, but I had no idea that I was going to love it as much as I did!
Lily Calloway and Loren Hale are addicts. She's addicted to sex; he's addicted to alcohol. A few years back, they made an agreement to enter into a fake relationship and play house with each other to ease their families minds, but their destructive paths only continued on, neither really talking about their addictions to each other or anyone else. They just enabled each other while praying their addictions didn't lead to something serious. Like disease, pregnancy or death.
You would think that a book about sex addiction would be filled with steamy, graphic sex scenes, but Addicted to You couldn't have been further from that. While sex happened quite frequently, and there were moments that it was described, it wasn't insanely graphic like most New Adult novels are. Addicted to You was actually quite tasteful with it for being about something so controversial and I applaud Krista and Becca for it. Their writing was very fluid and eloquent and during the scenes that normally make me flush with embarrassment with other books, I easily read through them. Well, except for one scene in which I was SUPER embarrassed for Lily. I couldn't even imagine. I'm embarrassed just thinking about it actually.
Every moment of the day Lily is thinking about sex. It was crazy how much so. How one look, one touch, one movement would cause her mind to go into fantasy overdrive and she HAD to have sex RIGHT THEN. Or relieve herself in some way or other. I truly felt sorry for her. She couldn't stop herself. Sometimes she would be so lost in her fantasies she wouldn't realize what was going on in the world around her and other times she would think she was only fantasizing but it was actually happening. That's how vivid her fantasies were. As far as her relationship with Loren goes, it was destructive at best. She enabled him, he enabled her, both knowing that while they loved and cared for each other, neither would be willing to give up their vices for the other. So how could they ask the other to stop for them? This only leads to more destruction, not just for themselves, but the people around them, including their family and new friends. A lot of the time, I was rooting for Lily and Loren to be together and get through their addictions so that they wouldn't tear the other down. At other times, I truly hated Loren for the way he was acting and treating Lily. Their addictions were so incredibly different that it was hard to understand his thinking when it came to her. I could understand his worries about her addiction and how if he wasn't around she would probably relieve herself some other way and not just by herself but most of the time he teased her and made her want him/sex and then would just walk off and do absolutely nothing to help her. He used her addiction against her ALL THE TIME to get what he wanted from her and I HATED that about him. Truly hated it. That to me had NOTHING to do with his addiction. That was just him being a complete asshole. There was also times that she would need him and he would be passed out drunk somewhere and could do absolutely nothing to help her. I was so relieved at the introduction of Ryke and Conner. Their bluntness and desire to be their friends, no matter the reasons, were refreshing and turned Lily and Loren's world upside down, helping them to see just how far down they've gone and that if they want to continue with their relationship something has to change.
The relationships they had with their families I feel were part of their problem. More so on Loren's side than Lily's. Lily's family was loving and caring, but sometimes way overbearing and had high expectations. Loren's father was just a cruel man and treated Loren horribly and I think Loren's need for his father's approval drove him to his drinking. I just felt truly bad for him where his family was concerned.
I've never read a book about addiction before but I feel that Krista and Becca Ritchie did a fantastic job with Addicted to You at showing just how destructive addiction is and if you don't get help, you will truly hit rock bottom, whether that may be death, prison, a disease of some sort, losing your family, your friends, you life. It can truly take a tole on someone and without the support of others, it's almost impossible to bring yourself out of it. I'm really excited to read the rest of this series and find out where Lily and Loren end up in the end. Do they conquer their addictions and end up together or do they succumb to the power of their problems and ruin everything for themselves? I can't wait to find out.
I rate this book:
The Addicted Series
Novellas
Other books set in the Addicted world
Authors
About Krista and Becca Ritchie
Becca Ritchie claims she's from Mystic Falls, but really, she lives in Atlanta where humidity is her greatest foe. She loves comic books, blue nail polish and Jonathan Taylor Thomas circa 1995. She frequents Twitter to dish about too many TV shows, and when she's not blogging, she writes novels and has teamed up with her twin sister to collaborate on a New Adult series.

Krista Ritchie has a clone...or someone who looks exactly like her. If she's not writing books with her twin sister, she's pouring over entertainment news and ingesting copious amounts of pop culture. She likes tennis, that thing called the TV, and beating Becca (her clone) on Sega Genesis. She created YA Book Exchange to combat her book buying addiction and started Nawanda Files, a YA Book Blog that features books into movies news, to share her love for all things bookish. Oh, and she does something called science. Whatever that is.

Krista & Becca Ritchie write New Adult books that make you cringe, gasp, and go ooh-la-la. (If you do that sort of thing.) They are currently working on the spin-offs and final books in the Addicted series. Connect with them on twitter and their website: kbritchie.com
Author Links: