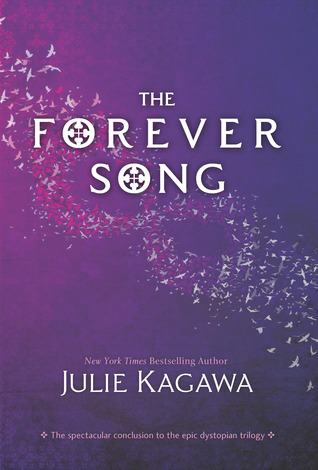 The Forever Song

Author: Julie Kagawa
Series: Blood of Eden #3
Vengeance will be hers.

Allison Sekemoto once struggled with the question: human or monster? With the death of her love, Zeke, she has her answer.

Monster.

Allie will embrace her cold vampire side to hunt down and end Sarren, the psychopathic vampire who murdered Zeke. But the trail is bloody and long, and Sarren has left many surprises for Allie and her companions - her creator Kanin, and her blood brother, Jackal. The trail is leading straight to the one place they must protect at any cost - the last vampire-free zone on Earth, Eden. And Sarren has one final, brutal shock in store for Allie.

In a ruined world where no life is sacred and former allies can turn on you in one heartbeat, Allie will face her darkest days. And if she succeeds, her triumph will be short-lived in the face of surviving forever alone.

THE FINAL HUNT IS ON.
Julie Kagawa has always been one of my favorite authors ever since I read The Iron King. Her story-telling is enticing, drawing you in with each word. Like most of her books, The Forever Song centers around a journey. Allie, Jackal and Kanin are on a mission to stop the horrible, sadistic vampire Sarren from destroying the whole world. With as many twists and turns as possible of course. One of which I never saw coming, but was secretly thrilled about. Okay, maybe it wasn't exactly a secret. ;)
The Blood of Eden series has been on my list of favorites since I read the first in the series. Following Allie on her journey of becoming the kind of vampire she wants to be has been a great adventure. Her short-comings made her all the more real as she tried and failed at times to contain the monster inside of her. Sometimes not even wanting to and succumbing to the numbness and anger.
When I first began the story, I was sure there was going to be a love-triangle between Allie, Kanin and Zeke. I am absolutely thrilled to say that wasn't at all the case. Julie could have definitely taken it there if she had chosen to, but she didn't and I'm rather glad for that. In a world of love-triangles at every turn in the YA world, it was so nice to see that Kanin and Allie never reached the point of romantic feelings. He was after all her sire, a.k.a. blood-father. They were family. It would have definitely been a little weird for her to fall for him.
One thing I definitely want to point out that I thought of this morning after a particularly disturbing dream that reminded me of not only the rabids in the Blood of Eden series, but also the virus-stricken people in I Am Legend, is that some elements of this series remind me of I Am Legend. Such as the rabids. And a certain other thing that I won't mention because of spoilers. And then I realized that I would LOVE to see the Blood of Eden series become a movie!! I mean, it would be rather gory, but you know how the movie industry is. They can definitely tone it down to fit the younger audience as we've seen in several book-to-movie adaptations these days. Example, The Hunger Games.
If you're looking for a vampire book to keep you guessing and bring on the drama, suspense, and heart-racing moments then this is the series for you.
I rate this book:
The Blood of Eden Series