Hey lovelies! So before I get to my list, I have a pretty big (for me, maybe not for you) announcement. Earlier this year, I got to thinking about life. Not in the mopey, dreary, depressed kind of way, but in the way that it just seemed to need to be evaluated. I'm approaching 30 (OMG!!!) and I started thinking about where I was in life, where I had thought I would be, where I want to be... all that good stuff. And a few weeks ago, I came to a decision (yes, my decisions take half a year, I'm indecisive okay?), that decision was to quit my job and be a stay-at-home-mom (YAY!!!).
Cut to today, I have officially spent my 1st week at home with my kids, one of whom is going into head start next month (whaaaat? please stop growing *cries hysterical snotty tears*). The other is going into the third grade (HOLY CRAP I'M GETTING OLD SOMEONE STOP ME), and I decided that I wanted to spend some time at home, being with my children. I wanted them to have the best version of me, and I didn't feel like I was giving it to them, like I could give it to them, in the situation that I was in. And let me tell you, I can tell a HUGE MONUMENTAL difference in the me of last week and the me of this week. I fully believe it was the best decision I could have made, for my kids and myself.
And on that note... I have time now to also focus on the things I love and that make me happy and all my little hobbies *ahem* reading, drinking coffee... drinking coffee, reading... reading, drinking coff... you get the picture. Yes, I fully intend on developing some others, but in the meantime, I'll be spending lots of my time doing those things. Which means that I'll ALSO HAVE MORE TIME TO DEVOTE TO THIS HERE BLOG! WOOO!
You have NO IDEA how unbelievably through-the-roof excited I am to finally be able to write reviews and think of blog posts and read other peoples blog posts and discover new books (SOMEONE HELP BECAUSE I'M ALREADY DROWNING IN MY EVERGROWING TBR PILE BUT I NEED ALL THE THINGS AND BY THINGS I MEAN BOOKS) and I'm just so grateful to finally have come to a point in my life where I can be comfortable in my decisions and just comfortable in general to be able to devote my time into doing the things I love and taking care of the people I love.
And now that I've gone through all the mushy stuff, I'll get to my Friday Five....
Books That Got Me Reading Again
1. The Hunger Games by Suzanne Collins
Once upon a time, I was a girl that had taken a break from reading. I had always loved to read, even as a child, but as I grew older, reading became something that I had to do (as in school reading), and I was involved in so many school activities and such that I just didn't have the time for it. But then there came a time when I was spending a lot of time at home with my son and during his down time, I had decided to give reading another go. I had discovered this book by chance when I saw someone talking about how great it was on some website and so I picked it up the next time I was out. And it completely took me in. I read the entire series within a matter of a few days and after that I was always searching for more books to pull me out of my readers comfort zone.
2. Twilight by Stephenie Meyer
Twilight was all the craze back in my younger days *ahem* early-20s, please don't judge. Up to this point, I was more of a contemporary kind of girl. I never really read outside of that genre, because frankly, I never thought I'd find anything like this interesting. But then I kept hearing about the book and then the movie and how great it was and Team Edward? Team Jacob? YOU HAVE TO CHOOSE A SIDE! and so I decided to watch the Twilight movie. I wasn't immediately hooked. I mean, I thought it was kind of interesting but I wasn't all like OMG EDWARD HE'S SO DREAMY AND OMG I'M SO IN LOVE WITH THIS MOVIE IT'S A MASTERPIECE but then I saw a preview of New Moon and I was like WAIT A SECOND HOLD UP THERE ARE WOLVES NOW WHAT? and that was the point where I said, okay I have to read this series now. I then became one of those die-hard fans who goes to see the movie at midnight with her best friend and OMG TEAM JACOB THERE'S NO ONE ELSE FOR BELLA BUT HIM and yes, I was okay with that. Looking back, I can now say that it's not the best love story of all time but it was a great story and I'm glad that I got on the Twilight train cause if I hadn't then I probably would have never realized my love for the science fiction/fantasy/paranormal genres.
3. City of Bones by Cassandra Clare
First off, let me just say... THANK GOD FOR CASSANDRA CLARE. Jace, anyone? City of Bones was introduced to me by my now-fiance's mother. I was just getting into my reading habits again and she told me about this series that she absolutely loved and swooned over and how Jace was like the hottest literary character ever and I needed to read this book. And so I borrowed it and immediately fell in love with the characters, the world, the story, EVERYTHING. And so I borrowed all the books in the series that she had up to that point and continued on reading it even after she had stopped. I am now completely in love with and obsessed with Cassandra Clare's Shadowhunter world and I'm so glad that I took a chance on this book. It introduced me to an amazing fandom and to the world of book boyfriends and showed me that I was not alone in my literary crushes.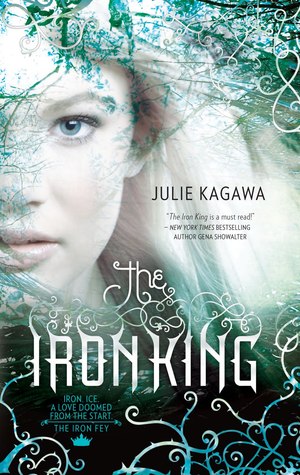 4. The Iron King by Julie Kagawa
I discovered this gem of a series by scouring the shelves in Wal-Mart looking for something new to read. I read the back cover and was instantly hooked on the premise alone. But then I started reading it and HOLY MOLY I HAD NO IDEA WHAT I WAS GETTING INTO BUT NEW FAVORITE AUTHOR ANYONE? I never knew that I could love a story about fairies (and evil ones, at that!) but Julie proved me wrong with this one. She is one of those insta-buy authors for me now. No matter what it's about, I have to buy her books because I seriously love her stories.
5. Something Borrowed by Emily Giffin
Something Borrowed is one of those books that I saw the preview of the movie and thought, how cute, I need to read this book before I see the movie. While I adored the movie, it didn't come close to the book. This is one of the first more-adult books I ever read, and I think it was probably one of the best to have started out with. It was such a good read, and I connected so much with the main character in always feeling like your best friends shadow. This is one of those books that got me into reading books with more adult themes than I was previously used to.
So what about you?
Which books got you hooked on reading? Which ones got you hooked on new genres you never thought you'd love? Any authors whose books you insta-buy?