About the Book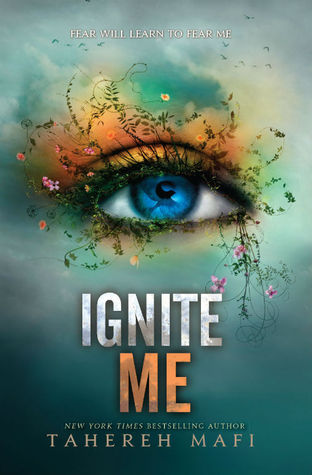 Ignite Me
by Tahereh Mafi
Series: Shatter Me, #3
The heart-stopping conclusion to the New York Times bestselling Shatter Me series, which Ransom Riggs, bestselling author of Miss Peregrine's Home for Peculiar Children, called "a thrilling, high-stakes saga of self-discovery and forbidden love."

With Omega Point destroyed, Juliette doesn't know if the rebels, her friends, or even Adam are alive. But that won't keep her from trying to take down The Reestablishment once and for all. Now she must rely on Warner, the handsome commander of Sector 45. The one person she never thought she could trust. The same person who saved her life. He promises to help Juliette master her powers and save their dying world . . . but that's not all he wants with her.

The Shatter Me series is perfect for fans who crave action-packed young adult novels with tantalizing romance like Divergent by Veronica Roth, The Hunger Games by Suzanne Collins, and Legend by Marie Lu. Tahereh Mafi has created a captivating and original story that combines the best of dystopian and paranormal, and was praised by Publishers Weekly as "a gripping read from an author who's not afraid to take risks." Now this final book brings the series to a shocking and satisfying end.
My Review
Words, I think, are such unpredictable creatures.
I have loved this story so much from the very beginning. I love Tahereh Mafi's writing style. It seems to me to be a mix of thought process as well as a bit of a poetry style of writing in so areas and I have always been able to just read straight through the pages of her books with ease because to me, it flows quite similarly to my own mind and thoughts. I think that is part of what drew me in to Juliette's story and why I have such an easy connection to her, even when she's making some poor decisions and being way more self-conscious than I can stand.
"I'd rather be shot dead screaming for justice than die alone in a prison of my own making."
I'm so happy to finally see Juliette harnessing her abilities and using them to fight for herself and those that she cares about. It was refreshing to see and I wish that Ignite Me had been longer and full of more depth. It felt so rushed for me. I'm not entirely sure why, but it felt like everything was just flying by. All the days and the moments, I wished had been slower, more detailed, more conversations, more conversations with depth. Less arguments between Juliette and some of her friends. Less anger and hatred between her and Adam. And far more scenes with Juliette and Warner. Just all of them. Warner has officially taken the top spot in my book boyfriend list for this series. While in my last review I was leaning semi towards Kenji even though I knew he would never really be an option, I still enjoyed his presence and his sense of humor and he definitely could've been good for Juliette, but Warner is definitely perfect for her and I just love them together. I really would have loved more scenes with the two of them together.
And now here's the part where I'm probably going to rant for a few (maybe more) sentences. There's potential spoilers in this paragraph so if you don't want to be spoiled on anything from the story, then probably skip this part. Everything seemed to happen way to fast. And way too easy. Everything that happened to the characters in the story came so easily it was insane. There were almost no repercussions of any kind with what they were doing. They were in the middle of a war, all the soldiers despised Warner, wanted him dead even, and yet everything was just handed to them. They all listened to him, they didn't suspect anything peculiar going on. Juliette was hiding in his sleeping quarters and not once was there an interruption. Not once was she nearly found out. Everything was peachy keen. Even during the times they sneak her out of the room and off base. NOTHING. HAPPENED. Not a thing, and I kept thinking, something is going to happen. Something has to happen. It can't all be this easy. And yet... it was. Everything happened so easily for them. The only thing that Juliette had trouble with was the fact that Adam hated her now because of how she was treating him, as in her breaking up with him and not wanting him anymore, and he told her these horrible awful things that didn't even sound like him and the whole time I was thinking, what the heck is going on here? Is this really Adam? What happened to this guy? Did I honestly used to believe that he was right for her? It was just all wrong to me. That was almost entirely the whole resistance they were met with except for the ending battle, and even that came easy. Not as easy as everything else, but easy enough. I kept expecting things to go wrong at some point, for just SOMETHING major to happen, but nothing did. And honestly, while I'm relieved, I'm also disappointed that they didn't have to fight harder to get what they wanted to accomplish. Is that awful of me? Maybe. But that's the way I'm feeling about it right now. I wanted to see the struggle, feel it even, but it never came. And while I'm glad that things turned out well for them, I wasn't expecting it to turn out perfectly.
Okay, spoilery rant over. You may continue on now.
Aside from the issues I covered in my rant, I absolutely loved Ignite Me. I still feel that initial connection with Juliette, I'm still loving Warner, and Kenji, and this amazing story and I'm so excited that Tahereh Mafi is coming out with not one but THREE new Shatter Me books and I cannot wait to get my hands on them all because I NEED MORE.
It's the kind of kiss that inspires stars to climb into the sky and light up the world.